Work Play explores the games we play at work, and why we play them. It makes the tiniest office incidents into the biggest things in the world, it makes desks into epic battlegrounds and stationary cupboards into coveted treasure chambers. It asks why we so willingly become embroiled in minuscule intrigues blown up to medieval court proportions in the workplace, when all we really need to do is get paid. Work Play pitches the personal implications of this against a political context in which the increasing loss of workplace stability and rights crank up the imperative.
Multimedia and interactive, this show leads the audience through surreal encounters with workplace politics, plays with ideas of scale both physical and conceptual, and draws them into games that mirror, subvert and parody those we've all played at work. Work Play features searing, soaring storytelling, sharp-eyed comedy, live music and participatory games that sit somewhere on a sliding scale between Guess Who? and Gladiator.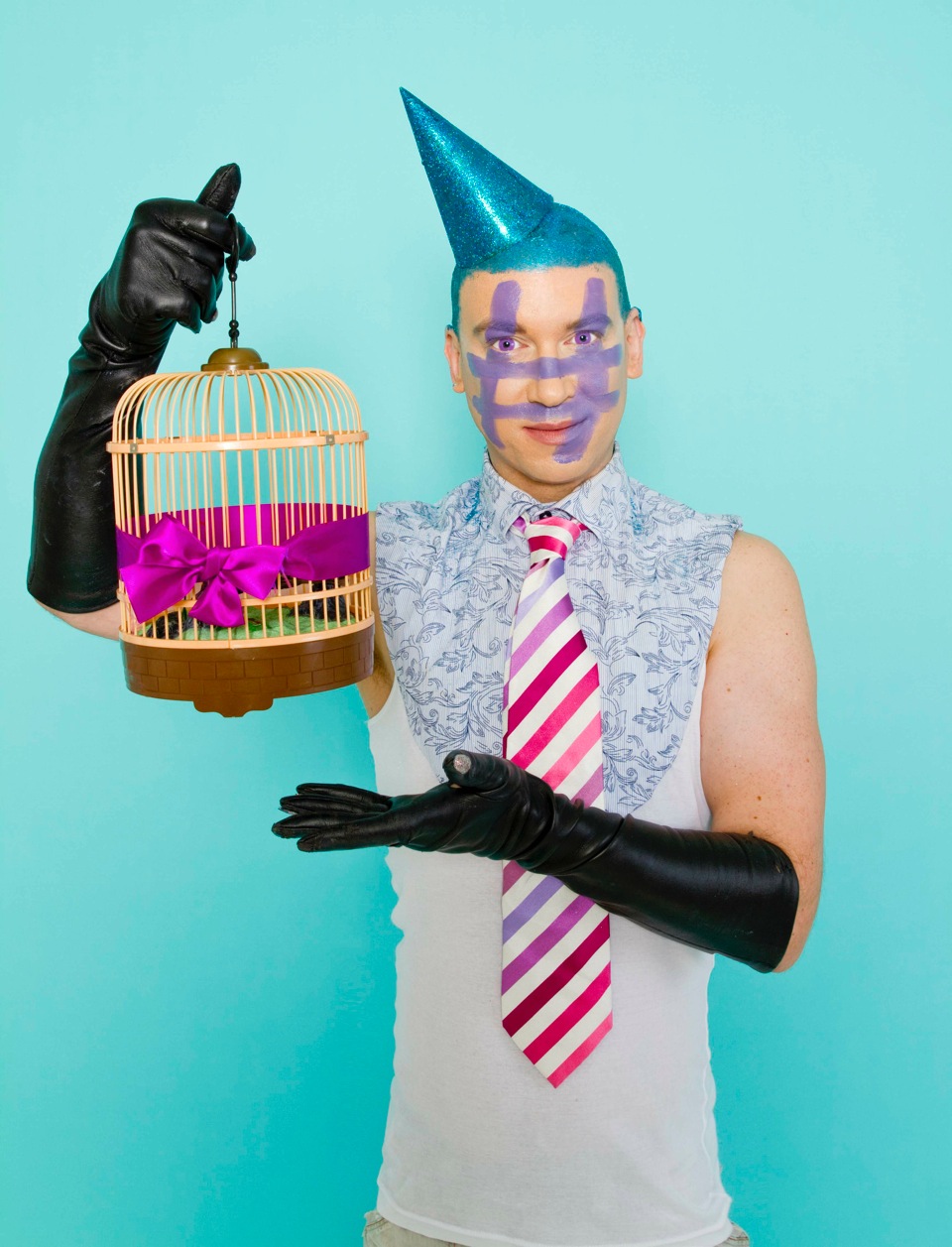 Be My Friend is a one to one performance that explores the negotiations and complications of friendship in a world of fractured selves. Nick would like to be friends. Would you?
Choose something at the festival to see together, and Nick's outfit for the occasion, and find out.
There will be a shared experience, an exchange of stories, and a moment that makes or breaks. Be My Friend is a bargaining between strangers towards becoming something more, where the rules are made up as we go.
Created to run alongside festival programmes, Performances have included touring with Forest Fringe at Latitude and during Edinburgh Festivals, and performances at Stockholm Festival and Norfolk County Show.
Adventure/Misadventure is existential travelogue as performance, comedy and theatre. It is lyrical beauty meets melancholic fury meets sharp humour meets absurd surrealism.
Adventure/Misadventure captures the textures and joys of constantly being a stranger, an outsider in unfamiliar cultures, and the sensations of becoming immersed in them. It contrasts this with tragi-comic stories of failed relationships and the absurdities of terrible jobs; the negotiation of ideas of home.
The performance is weaved with poetic delivery evoking places and people, comedic timing, and a searing honesty. Theres a roller-dance routine to a megamix of songs about freedom, theres ritualistic movement scores contrasting experiences of a tea ceremony in Kyoto with childhood sunday lunches. A Dolly Parton classic is reimagined as a dark electro smasher. Theres a section about an unfortunate brush with academia that ends with a tussle at a symposium involving an evil toy frog wrenched from a clowns penis- true story, well maybe not the bit where the frog starts talking.
The first full length solo show by Nick Field
The Cosmos, The Cosmetics is a powerful, resonant and intimate story of the search to find a place to belong through the underground sub-cultures of the UK.
Weaved with tales of an eccentric rural youth, poetic meditations on the nature of skin, scars and memory, and shot through with delicious humour.
The show toured with dates including Oxford Playhouse, Ovalhouse and Brighton Fringe Festival, and was then programmed by the invitation only Stockholm Fringe Festival.
I Show You a Mirror - stories & spontaneous moves as Nick tries to remember how to vogue. An exploration of subculture, bodies and language to reflect the predatory relationship between subcultures and the mainstream, and ask questions about language, ownership and cultural expression. Performed at Forest Fringe during Edinburgh Festival, 2016.
Love Map - Neuroscience is pitched against sexuality in this searching, funny & poetic journey into uncharted neurological territory to ask if we can ever only really be defined by our brain chemistry. Performed at Latitude Festival and Southbank Centre Literature Festival.